Derek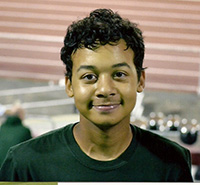 Derek's mom is a single parent of two kids. She eventually lost her job because of the time she had to spend getting Derek through treatments. They moved in with her parents, made tough financial decisions, and relied on friends, but even that didn't stop the shut-off notices from coming or help pay the medical bills.
Prior to the diagnosis, Derek's mom gave him a clarinet. It was a lease to own, and she still had payments to make. Although they couldn't afford it due to the mounting bills, she insisted that he keep it. It was around that time that a social worker at UNMC told her about Angels Among Us.
After the family was accepted into the program, Angels Among Us paid many of the family's medical bills, cell phone bills – even the clarinet bills.
"I know it's just an instrument but to Derek it was a symbol of hope. In keeping it, it told him he would indeed be well enough to play again. And the cell phone, I was able to speak to my daughter Micaiah nightly and hear about the day I couldn't be there to share with her. It was a life line made possible by your organization."
Thank you,
Kerrie Miller