Grace, Ryleigh and Teagan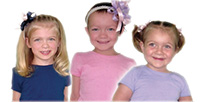 I would like to say that your organization helped so much during Teagan's treatments.
We want to say a HUGE Thank You to your organization. When our second daughter was diagnosed with Acute Lymphoblastic Leukemia (ALL) last July, we were crushed. Thinking about bills, gas to and from the hospital and time lost at work seemed like too much.
I didn't know if we could apply with you again, since we'd already been through your program with our other daughter. But when I called, I wasn't questioned at all – just asked to submit paperwork and we were immediately back on your program.
But what was so impressive to our family is that when our second daughter, Ryleigh, was diagnosed a year after Teagan with ALL, you guys helped us out a second time!! We are forever indebted to your organization because the financial help you provided to us was very substantial and really helped alleviate a lot of financial stress-(your funds were used to help us with our mortgage both times).
The money we received from you towards our mortgage was such a blessing. The financial help provided to us was so great, and really, really helped us with our mortgage during all the treatments. This allowed us to focus on our daughters, instead of me worrying about working. t helped take a little pressure – financially – off of us.
Thank you so much :-) Our daughters are doing well and we've included pictures of them!
Sincerely,
Steve and Andrea Wright
and Grace, Ryleigh and Teagan
UPDATE!
Teagan is doing fabulous. She is a healthy, active 7 year old:) This June, she will have been off of chemo 3 years.
Ryleigh is doing fantastic, also!! She is a healthy, happy 7 1/2 year old too! She has been off of chemo 1 1/2 years.