Jace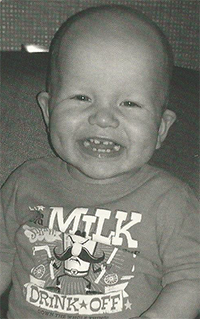 Jace was diagnosed in Sept 2013 with neuroblastoma high risk Stage 4.
Completely shocked and our life turned upside down we spent 32 days straight in the hospital because he was so sick. Jace followed a 15 month treatment plan including 6 rounds of chemo, stem cell collection/transplant, radiation, tumor resection and immunotherapy. We were in and out of the hospital and in for follow up checks, usually more than weekly.
Along with our attention on Jace, we also have 3 other children, ages 8, 6, and 4 at home to care for, along with trying to maintain employment.
Angels Among Us helped us with the added expenses. It was a sense of relief, knowing our work schedule was limited, however our monthly expenses were still there. I had no idea such an organization existed for families experiencing similar situations as ours.
At the time, life was so hectic and stressful and Angels Among Us was a positive piece to help us focus on Jace and all our children. It was a roller coaster ride never knowing what was next. We are extremely thankful to announce Jace had scans in December which came back free of neuroblastoma. He is considered "no evidence of disease" at this time!
We are truly grateful as many others are still fighting this beast. "Thank you" will never be enough. Thank you for choosing our family during one of the most difficult times in our lives.
Sincerely,
Jeremy, Jess, Emerson, Gage, Hudson and Jace Knoell