Jay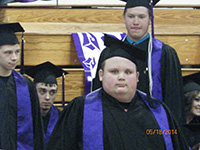 Angels Among Us helped us out a lot.
There are so many expenses when you have a sick child. Having to stay away from home, all the meals you have to eat out, gas to get back and forth for treatments, and all the medical costs.
Angels helped pay our mortgage when Jay was first undergoing treatment. You also made sure we had a little extra money to focus on the expense of having a child in the hospital and having to be away from home.
You guys have also included him in your Christmas program and for that we were also very thankful. Because of all the added medical expenses, extra money for gifts was just not possible. He enjoyed Christmas gifts because of families that adopted him and provided gifts for him.
I think it is perfect how the social worker at the hospital told us about your organization. They know everyone's situation and circumstances.
Jay is doing well and goes every six months for an MRI scan.
You guys were a Godsend to us.
Thank you,
Jeff & Arlene