Joe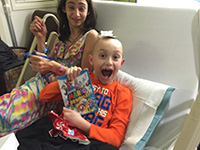 August 15th 2014 our world was turned upside down. After 2 months of our son in agony with no answers and multiple visits to several ER's, we were finally given an answer: Cancer.
Pre-B cell Lymphoblastic Leukemia to be exact. Joe had a very rough start, since he had been pre-treated with steroids he was automatically seemed High Risk. We had bowel issues and chemo complications, leading up to an infection and appendix rupture. After getting an emergency drain and waiting a little over a month, it was finally safe enough to have it removed. It was shortly after all this that he had an allergic reaction to one of the main chemo drugs. This and some genetic test has now placed him on a Very high Risk regimen. Since then his treatments have seemed to level out.
As for our lives… we live in a "new normal". A normal where we are scared of the common cold, one where paranoia runs rampant fearing the worst for our other 2 kids anytime they get sick, a normal where hanging out at hospitals can be fun , where most of the nurses know the names of everyone in our family and we know most of their names. This time has also been a time of community.
Since Joe's diagnosis our church and his school have supported us in so many ways. From fund raisers, prayer campaigns, meals, to pediatric cancer awareness events. It has been a blessing to have so many people and organizations offer help and support in a time where it feels like you are constantly walking through fog.
Joe is getting ready to start a new chemo phase later this month, DI.
Thank you for helping an organization that's done so much to help us,
The Hibler Family