KINLEY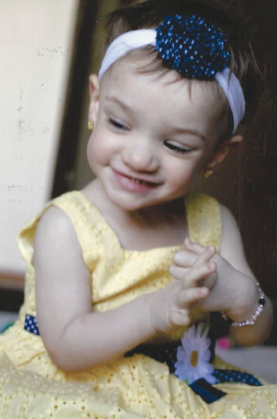 Dear Angels Among Us,
Dan and I are writing to you guys to send out our deepest gratitude for everything you have done for us. Your assistance with our mortgage has helped us out tremendously with our finances. With all of your help, we were able to save that extra money and put it towards Kinley's medical bills.
Kinley has a genetic disorder called Neurofibromatosis. It is called NF for short. People with NF can suffer from a variety of things, such as: scoliosis, low muscle tone, hight blood pressure, and gliomas. Kinley has an optic nerve glioma (tumor) that is non-cancerous. However, if it continued to grow, it could drastically affect her eye sight, or even cause blindness.
The doctors monitored it closely with MRIs, and noticed it was gradually getting bigger. The only option we had was to undergo a year of chemotherapy. Hearing the doctors tell us this news was tough. My husband and I felt so many emotions. We were scared, angry, worried, and much more. We couldn't understand why our daughter, who isn't even two, had to go through something that sounded so scary. We also felt she had gone through enough already for being so young.
Kinley was born at 26 weeks, weighing only 1 pound 9 ounces. I had preeclampsia and my health, as well as Kinley's, was rapidly going downhill. I spent one night in the hospital and the next morning, had to have an emergency c-section, as they thought Kinley wouldn't even survive birth. We spent 4 long months in the NICU. She had brain and lung bleeding as well as malrotation surgery. Kinley also had ROP which stands for Retinopathy of Prematurity. This also affects the eyesight and can cause blindness. She had to have injections in her eye to help them progress. She struggled gaining weight and keeping her body temperature up which prolonged her stay in the NICU. On March 26, 2013, we got to bring our miracle baby home.
After our journey in the NICU, we had another journey to begin. We had (and still do) many therapy sessions at the hospital. We see Physical, Occupational, Feeding and Speech Therapy once a week. We also see the schools Intervention team. Then with the news we received chemotherapy once a week as well. After the first several weeks of chemo, we grew accustomed to it and accepted it. We had to. We had to be strong for our little "peanut" and comfort her as much as possible. Especially since she doesn't understand what is happening. We were going to get through this together.
Today, Kinley weighs about 21 pounds and has exactly 3 chemo sessions left! Throughout the year we had MRIs and the tumor shrunk significantly. The tumor is now stabilized and we will continue with follow-up MRIs after the conclusion of chemotherapy. We are so grateful that the chemo has helped our daughter. Even with the struggles we have encountered, Kinley has proven to us that she is a fighter. She is strong and will not give up. She is one amazing little girl and we are so proud of her!
We appreciate everything you have done for our family. You have truly touched our hearts and have helped our family in a huge way and we will always be thankful for the assistance you have given our family. We will be sure to tell Kinley about how you guys helped us when she is old enough to understand. We appreciate you taking the time to read our story and we give permission to your organization to share our story if needed/wanted. Thank you again!
Sincerely,
Daniel, Kayla, & Kinley Iverson