Kohen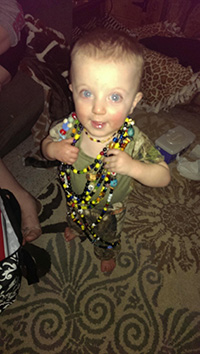 First I want to say a huge thank you to you and all of the members of Angels Among Us as well as to all of your financial contributors! You helped alleviate so much stress the goes along with bills and a lack of money. I had to quit working to care for Kohen and my husband has had to take quite a bit of time off work to be with his son during treatment and hospitalizations.
Kohen currently has a few tumors left on his liver but they haven't changed in months. His doctors are hoping they have died and will turn to scar tissue in time. But we still travel the 280 miles one way from our home in North Platte to Omaha at least once a month for lab work and scans to make sure his cancer is not spreading or growing.
Kohen has been evaluated recently and has been determined as developmentally delayed and will begin getting some assistance for the areas he needs. He has a hearing loss due to chemotherapy therefore has not started talking but is beginning to learn sign language which alleviates a large language barrier that we have. It is recommended he has surgery on his ears in the near future.
Kohen struggles staying healthy as his immune system does very little in protecting him from germs. We make very frequent trips to the doctor for illnesses (relatively minor ones).
Currently our biggest medical struggles are due to his 5 year old big sister who just underwent reconstructive surgery to her heart after discovering she has a heart defect. Without the help of you and Angels Among Us through all of the turmoil we have been through, I don't know how we would have been able to continue living in our home and paying our bills.
We struggled providing an appropriate Christmas for our children this year due to financial struggles, but again you and the financial supporters of Angels Among Us came to the rescue and sent our children gifts for Christmas! Thank you!!!!
In time, we hope to become more financially stable and we hope to be able to begin to return the favor in contributing to your organization!
Again, thank you so much for everything and I hope you will pass this along to others who would appreciate knowing how grateful we truly are!
Best wishes and God bless!
Katie, Lance, Leila and Kohen Wright