Michael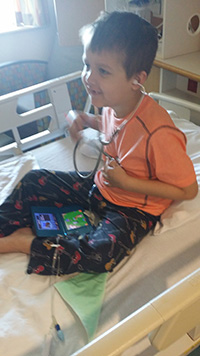 Thank you so much for all that you have done for us. To all those involved with Angels Among Us, I want to say thank you. Your help this past year has been such a wonderful blessing to us. We were able to concentrate on Michael's care without having a cloud of worry hanging over us.
Michael has been doing great. He started Kindergarten and his report cards show us that he is a very smart little boy. He is both an auditory and visual learner so he is ahead in many areas. He loves to have someone read to him and works very hard at learning the skills he needs to be able to read himself. We missed much of the sickness that passed through our community until this last month where Michael had to spend some time in the hospital because of the flu. He is still tired but has not missed any school days since they were on break during this time. We are on track with his treatment which will continue for approx. another 1 ½ years. Some days he does not feel very good or he complains that his legs hurt but overall things have been going well.
The greatest benefits that we received from Angels Among Us was peace of mind. I'm a worrier about most everything but through Angels Among Us I was able to relax a little and concentrate on taking care of Michael and making sure that our other son Matthew also had the support he needed while his little brother went through treatment. My husband works construction which is not always consistent. There were days he was not able to work because of weather. So many stresses and it was a hard adjustment for our family. You made it easier for us to handle this crisis.
You guys were fantastic! You made everything so easy. You kept us informed and we never had to wonder what was happening. I did not realize there were organizations like this in existence but I'm so thankful there is. I know it is helpful to make recommendations but I cannot sincerely think of anything.
I'm not sure how to respond. You have helped us so much we are forever thankful. I only wish I could give back as much as you have given to us.
Should someday come where I am blessed with an abundance, I will make sure that Angels Among Us is at the top of our list of charities. I tell everyone that wants to give to an organization to give to you.