Mikaelah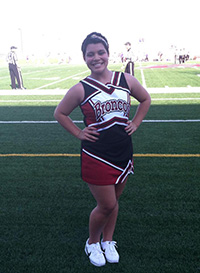 We are approaching the 2 year anniversary of being cancer free. Mikaelah is now a sophomore at Hastings College. She is a captain of the cheer squad and a member of Alpha Delta Alpha. She loves college has made lots of friends. We continue to go for checkups every three months. Her hair is growing back and she is back to her pre cancer energetic self.
We received rent assistance which was a tremendous help. Mikaelah's cancer hit our family at a very difficult time because I was unable to work because two years earlier my husband, Mikaelah's dad, had suffered a triple brain aneurysm and stroke. After he was in a coma for 6 weeks and spent one week in in patient rehab he was sent home. He was then placed in outpatient therapy and for the first month he was there for 5-7 hours so I was able to continue working. Then I nearly suffered a breakdown and took a leave of absence from my job, which I later had to give up because my husband could and would not be left at home with anyone else but me or one of the kids. I was just to the point of applying for jobs when Mikaelah was diagnosed. At the time I had two in college and two in high school and we were trying to live on the disability only. It was very difficult and the assistance that you have us eliminated one worry for me. Saying thank you just never seems to be enough.
I was also contacted that first Christmas after her diagnosis about what the kids would want for Christmas but I asked for a Thanksgiving meal instead and your organization was willing to assist in that. You were such a great help.
Our family has been through so much but we have come out stronger because of it. We have learned to appreciate each day and each other more because we know how easily it can be taken away. It has not always been easy but it has made my family more appreciative, more accepting and more willing to give.